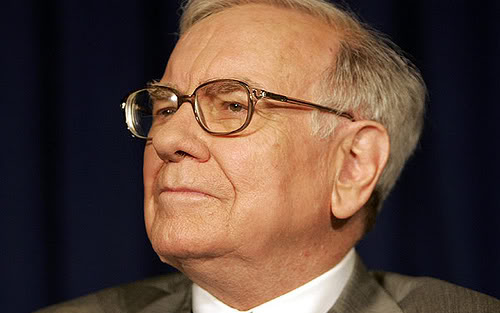 Those are not my words, but those of the Oracle of Omaha, Warren Buffett, one of the most successful investors in the world. In his annual Letter to Shareholders released at the end of last month he said he had been "dead wrong" a year earlier when he predicted a rebound in U.S. home prices would begin within a year. Still, this year he is again betting the U.S. housing market recovery will get underway for a different reason: hormones.
According to Mr. Buffett, young people have stayed at home, moving in with parents and in-laws rather than setting up their own households.  "Housing will come back – you can be sure of that… Every day, we are creating more households than housing units. People may postpone hitching up during uncertain times, but eventually hormones take over," Buffett wrote in the letter to shareholders in his investment company Berkshire Hathaway. "And while 'doubling-up' may be the initial reaction of some during a recession, living with in-laws can quickly lose its allure."
In an appearance on CNBC on February 27th he added "houses are another attractive investment at current prices." He went on to say he might buy a couple hundred thousand homes if only he could figure out a way to manage them effectively. He said he isn't very handy. "Single-family homes are really cheap now too," Buffett said.
When you look at the holdings within Berkshire Hathaway you will note among the 80 subsidiaries in the portfolio are several companies that are tied directly to the housing market. Among them are Acme Brick, Clayton Homes and Shaw Carpet. In 2006 those companies contributed $1.8 billion of pretax profits to Berkshire while last year their contribution was only $513 million. Buffett certainly has reason to want the housing recovery to gain strength.
Any other words of wisdom from Mr. Buffett?
Further into the interview-
According to the world's most successful investor, the reason buying a house and taking a low interest rate mortgage makes perfect sense is simple:  " it's a leveraged way of owning a very cheap asset now. That's as attractive an investment as you can make." 
So, what holds so many Americans back from taking the advice of Mr. Buffett? The same thing that paralyzes so many investors—fear. Overcoming that fear and moving forward against the cautious masses is one of the characteristics that have made Warren Buffett the world's most successful investor. We can learn much from his history.
If you would like information on any real estate related matter here in Southwest Colorado, please give me a call at 970 264-7000. You can also drop me a line at:  MikeHeraty@frontier.net.
Also, be sure to visit our website at www.pagosasource.com
This blog entry will not have much to do with real estate. If you want or need specific real estate data or assistance, drop me an email at MikeHeraty@frontier.net, or call me at 970 264-7000.
ALAMOS, SONORA, MEXICO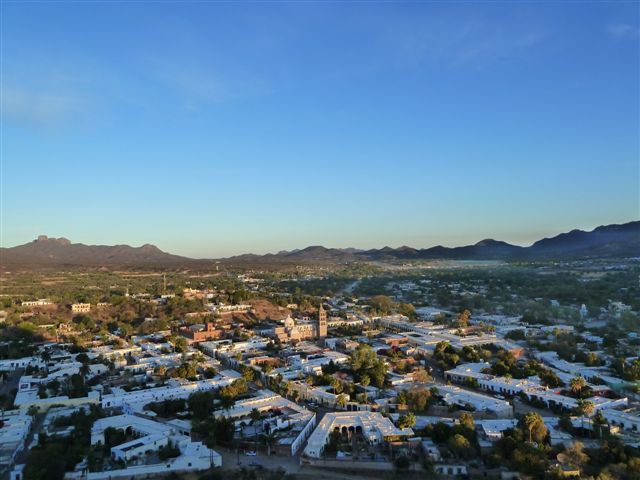 I recently returned from a trip to northern Mexico at the edge of the Sierra Madres to the town of Alamos within the State of Sonora. Interestingly, the town is about the same size as Pagosa Springs. It is a Spanish Colonial Mining Town founded in 1681 following the discovery of silver in the area. Because of the great wealth created from nearby silver mines, scores of large colonial Spanish mansions were built in the town. Many were destroyed in the early 1900's before Americans began to rediscover the area in the 1940's. A number of the families living in Alamos can trace their heritage back to first settlers that came to work the mines.  Presently there are a number of Americans that maintain homes there for the winter months, and a few that live there all year, though I have found the summer heat to be quite intense. Like Pagosa Springs, Alamos has struggled during the recession to continue to attract tourists that are willing to spend money locally. Unlike Pagosa Springs, they have also had to deal with all the negative press relating to the drug wars that continue to plague many parts of the country. Though there has not been any drug violence in Alamos (it is far enough off the cocaine highway) the number of visitors from the U.S. has declined sharply and the town has seen a significant reduction in U.S. tourist dollars flowing into its coffers. Interestingly, those funds have been replaced, by and large by visitors from within Mexico. Alamos has been the location for the filming of a Novella (Mexican Soap Opera) which has been tremendously successful. They have been in town for the summer months, which historically have been the months most hotels see few visitors. In December of last year they filmed a full feature movie in the area. When it is released later this year into the Mexican market, Alamos expects to see more visitors as the movie includes some interesting history of the area.
The residents, business owners and town employees and leaders work hard to keep their city clean, safe and friendly. They do a good job of promoting Alamos with a series of events scheduled throughout the year. While I was there last month the 28th Annual Festival Alfonso Ortiz Tirado was underway. This is a music and art festival named after a famous opera singer and doctor that was born in Alamos in 1893.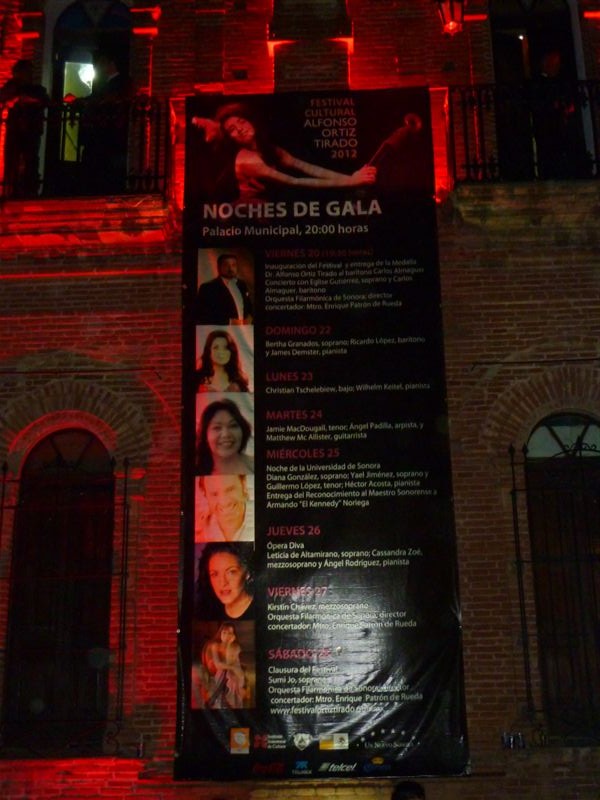 This year performers came from Puerto Rico, Brazil, Cuba, Costa Rica and other Central and South American countries. The following link will take you to the Festival Program Guide- get ready to polish up on your Spanish:  Alamos Festival         The event was attended by loads of Mexican nationals, many from within the region, but many from as far away at Mexico City and Oaxaca. About a third of those attending the festival were foreigners, from Central America, Europe, South America and Gringos like myself from the U.S.  Everything was very well organized, events began and ended on schedule and provided everyone with a fabulous variety of musical performances. Thursday evening the group Puerto Rican Power played for the crowd and had everyone on their feet dancing the salsa:  Friday evening the group Opera Prima Rock performed a two hour tribute to the music of Queen. I was amazed how popular their music was and how many members of the audience knew all the lyrics. The group had everyone on their feet for the encore "We Are the Champions".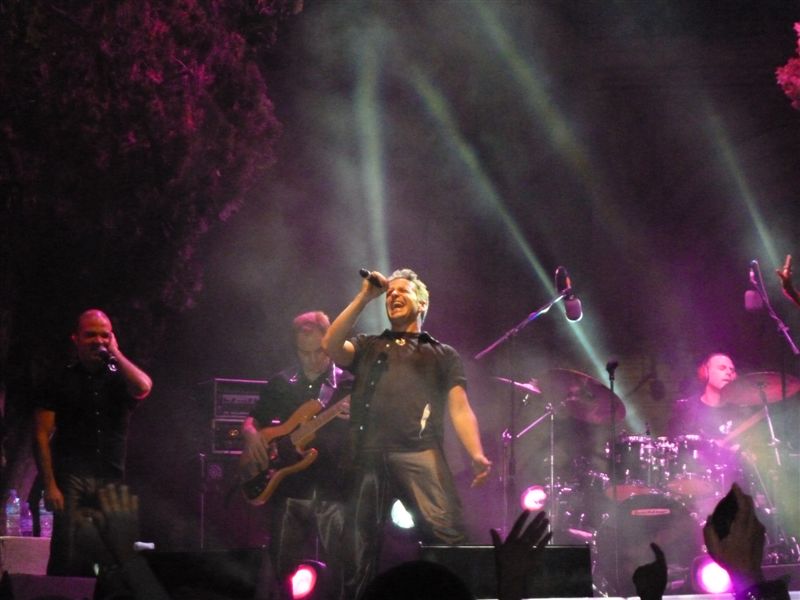 OPERA PRIMA ROCK 
Saturday evening the Italian Tenor Alessandro Safina performed. In 2007 he recorded a duet with British Soprano Sarah Brightman for her Symphony album and joined her on her Symphony World Tour for 2008 and 2009. His vocals and his orchestra were fabulous. Following his performance,  Callejoneada con la Estudiantina Dr. Alfonso Ortiz Tirado completed the music celebration with all of the musical artists dressed in 17th century Spanish costumes, parading through the streets and alleys of Alamos playing traditional songs and telling stories. This went on until the wee hours of the morning. In all, the experience was wonderful.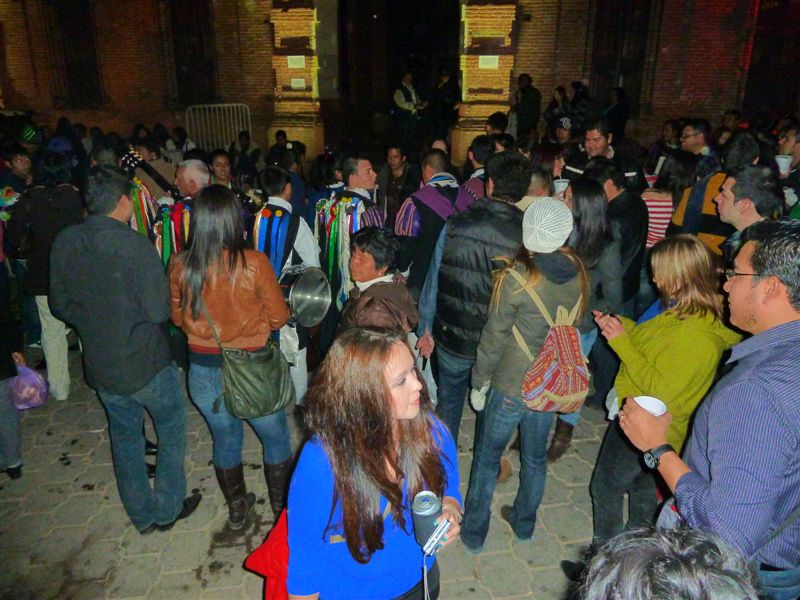 Anyway, what I found most interesting is how well attended the Festival was. You had to travel 30 miles west of Alamos to the city of Navajoa to find lodging if you had not made a reservation at least two months earlier. The Festival has been sponsored and coordinated by a group of stakeholders including the Town of Alamos and surrounding communities, the State of Sonora the National Institute of Fine Arts, with commercial financial support from Coca Cola, Corona, and Telmex. This is a festival I would highly recommend to any music and culture lover. The people are warm and friendly, lodging is great within Alamos if you plan ahead. My two favorite lodging facilities in Alamos happen to be owned by Americans: Hacienda de los Santos and Hotel Colonial.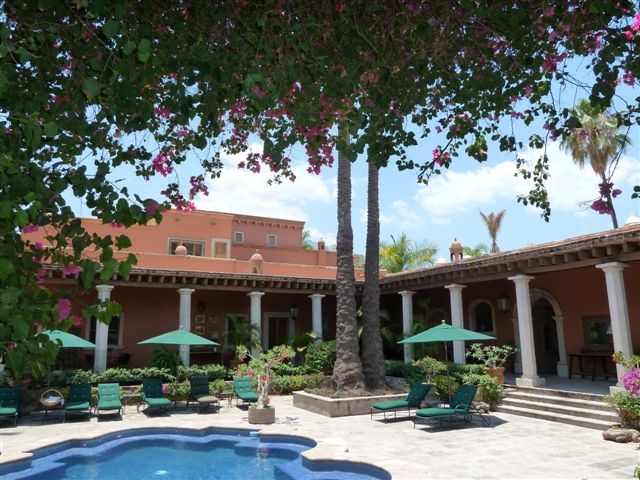 Hacienda de los Santos, one of three pools.
 Both of these hotels are exceptional. Within HDLS is the Poncho Villa Cantina, where Poncho Villa stood after entering the town. If you are a Tequilla drinker, you will find over 500 different bottles of the spirit within the bar. If you can't find one you like, you'd better think about changing drinks!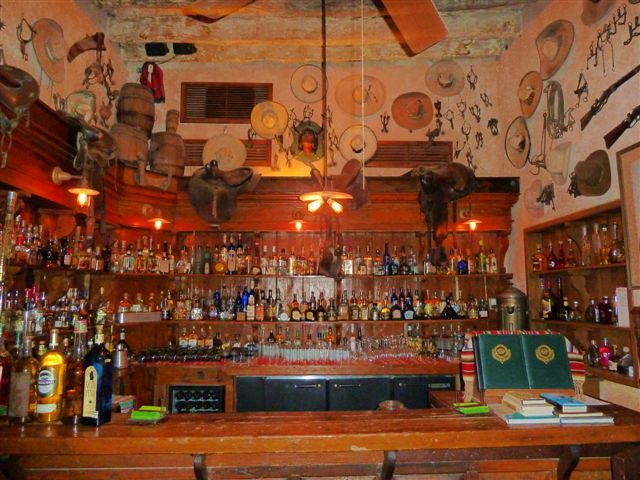 Pancho Villa Tequilla Bar at Hacienda de los Santos
The restaurants in Alamos are very good and very economical.  I love the food at Hacienda and Las Palmeras is a great spot for lunch or a casual dinner. Terisita's Panaderia y Bistro is my favorite for a cappuccino and breakfast pastry, a great place to start the day and check email with their WiFi connection.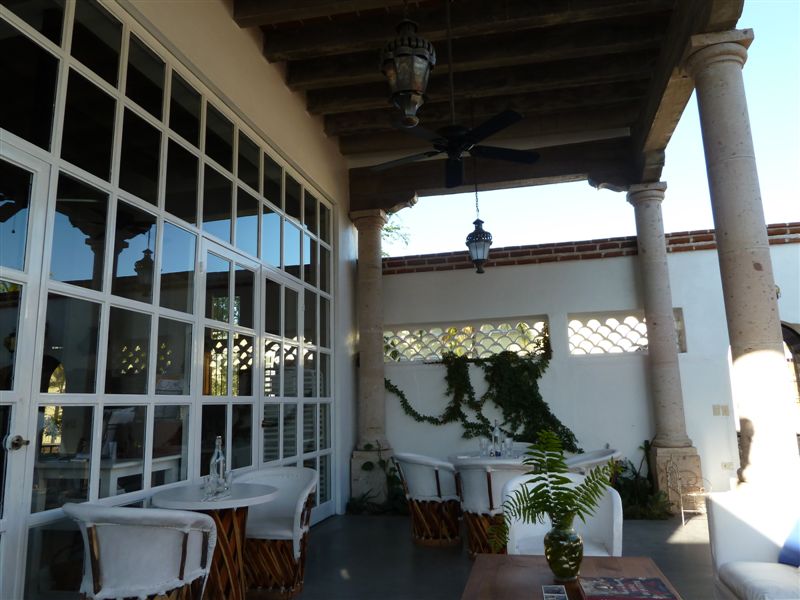 Outside Seating at Terisita's Panaderia Y Bistro
You can reach the town of Alamos by driving a little over one hour south from Ciudad Obregon, where you can catch a flight from Phoenix on Aero Mexico with a connection in Hermosillo. Alternatively, if you don't mind a longer and much more economical journey, you can take a first class luxury bus with on board video sets and Wi-Fi from Phoenix or Tucson. While in town I did check out the local real estate scene. Not much had changed from my previous visit in June of last year. A few properties are moving, but very slowly and at prices well below the peak of 2007. Few Americans are buying and many more are trying to sell. Very few Sellers have shown a willingness to greatly reduce their asking prices. Instead, they seem determined to remain patient, a concept that seems more abundant within Mexico.  The decline in buying interest from Americans has, to some extent been partially offset by a renewed interest from Mexican nationals.  It was also interesting to see the increase in Canadians in Alamos.  Alamos Gold of Toronto, Canada owns a huge gold mining and milling operation just west of Alamos which is targeting production in excess of 150,000 ounces of gold for the year, generating gross revenues of over $200 million. Perhaps this investment in the area will create more visitors to Alamos from our northern neighbor. I initiated a discussion with a resident American of creating a Sister City relationship with Pagosa Springs. The Town of Alamos currently has a Sister City relationship with an Arizona community, but nothing with any Colorado towns. It might be a mutually beneficial relationship, given the similarities of the towns. If you think you would enjoy the wonderfully interesting culture of Old Mexico, I highly recommend you consider a visit to Alamos, and I would suggest visiting during the Festival Alfonso Ortiz Tirado in January. Be sure to book your trip early in order to obtain good local lodging.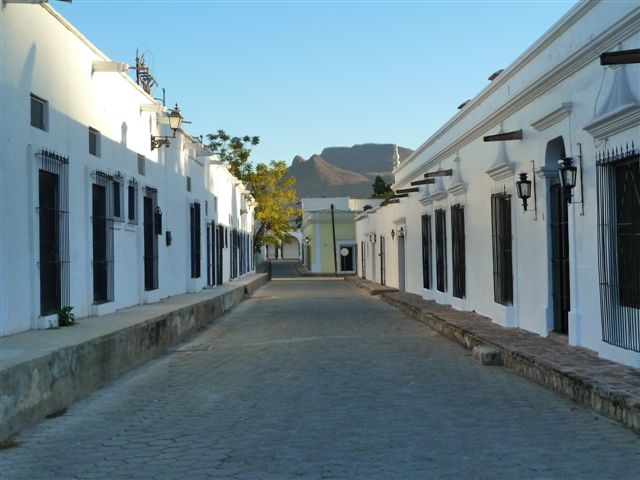 A Quiet Street Scene in Alamos at 6:30 a.m. the day after the end of The Festival.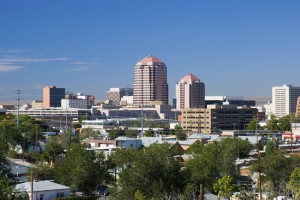 Is the Albuquerque Real Estate Market Important to Pagosa Springs?
Good question. Yes, actually, the Albuquerque economy is important to Pagosa Springs for several reasons. Historically, a large number of second home owners came to our area from Albuquerque. Today we still have a good number from Albuquerque and the Santa Fe area. Albuquerque is our closest neighbor of any real size and it has weathered the current recession relatively well. It continues to benefit from defense spending with several military installations as well as the large number of folks employed at Sandia Labs. Also, on the West Side of Albuquerque, Intel has had a major presence with several expansions and increases in employment.
So, our neighbor to the south is important to us and we benefit when their economy is doing well. I recently received a report on their real estate market from a broker I work with there. The numbers are encouraging. Though the average selling price for single family homes is down slightly, the number of transactions is up and the total dollar volume is up. Closings are up over 13% from the prior year. Also, the amount of inventory on the market in Albuquerque has declined by nearly 22% over last year. The Absorption Rate now indicates that Albuquerque has a 7 month supply, down from a 10 month supply in July of last year. These figures confirm their real estate market is improving and that will be good for Pagosa Springs. If our community, through the Town Tourism Committee, the Chamber of Commerce, the Downtown Merchants Association, Board of Realtors and Builders Association, can come up with a creative and effective marketing campaign, perhaps we can attract more affluent visitors from Albuquerque.
For many years the timeshare operators pulled visitors up from New Mexico with free golf, dinners and balloon rides in exchange for sitting though a sales presentation. Perhaps we can attract more Albuquerque visitors by communicating the unique qualities and experiences Pagosa Springs has to offer. I have confidence in the marketing creativity members of our community can come up with.
For information on real estate in the Pagosa Springs or Durango area, be sure to visit our web site- www.pagosasource.com. Also, if you would like to discuss your real estate concerns or goals, please give me a call at 970 264-7000, or, drop me an email at: MikeHeraty@frontier.net
Thanks,
Mike