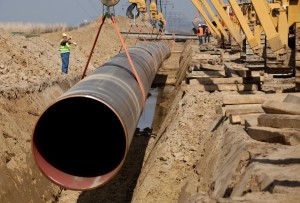 MAJOR NATURAL GAS PIPELINE PROJECTS- TEXAS- MEXICO
Recently we closed the sale of a property south of Pagosa Springs, which we had listed for sale at $1.6 million. So far this year, the sales activity above $1 million has been limited and our analysis clearly indicates the depressed energy sector is at least partially to blame. Going back over a ten year period, more than half the purchasers of $1 million+ properties have been from Texas. A very large percentage of those purchasers have been connected to the oil and gas industry. The price of oil began its descent in July of 2014 when it was above $100 per barrel to today where it currently trades in a range $40-$50 per barrel. With the downturn, oil rig counts have dropped, and layoffs and capital spending cuts among large and mid-size oil firms have been widespread as companies make adjustments to ride out the downturn. The ripple effect of these changes began to be felt here in Southwest Colorado a year ago–more luxury properties were put up for sale and fewer Texas purchasers were actively shopping. To date we have not seen any drastic price cuts or panic selling, but luxury properties are certainly taking longer to sell and there is a higher level of negotiating taking place. With all this negative economic news, what is there to be optimistic about?
Back to the sale that we just closed. The purchaser owns a company engaged in construction of natural gas pipelines. Recently several huge gas pipeline projects were announced, including a line supplying Texas gas to Mexico's factories in Monterey and other industrial centers. His company will be involved in the construction of the huge natural gas pipelines. Because the price of natural gas is low, it makes sense for many large energy users to convert away from coal generated electricity to natural gas— we are seeing this across the U.S. as coal burning power plants are converting on a large scale. For some companies in the natural gas industry, new opportunities are opening up, even while the price of oil remains impaired. We may see more improvements in this corner of the energy sector in the months ahead and we are hopeful we will see a greater number of Texas second home buyers will be returning to Southwest Colorado.
In the meantime, prospective purchasers have plenty of luxury second homes to choose from, both in Pagosa Springs and the Durango area. Many may be acquired for a significant discount to replacement cost. Interestingly in spite of the abundance of $ 1 million+ homes available for sale, there are several custom homes under construction well above the million dollar level. For some folks, saving a substantial amount of money by buying an existing home is not a motivator. They choose to design and build exactly what they want, because they can.