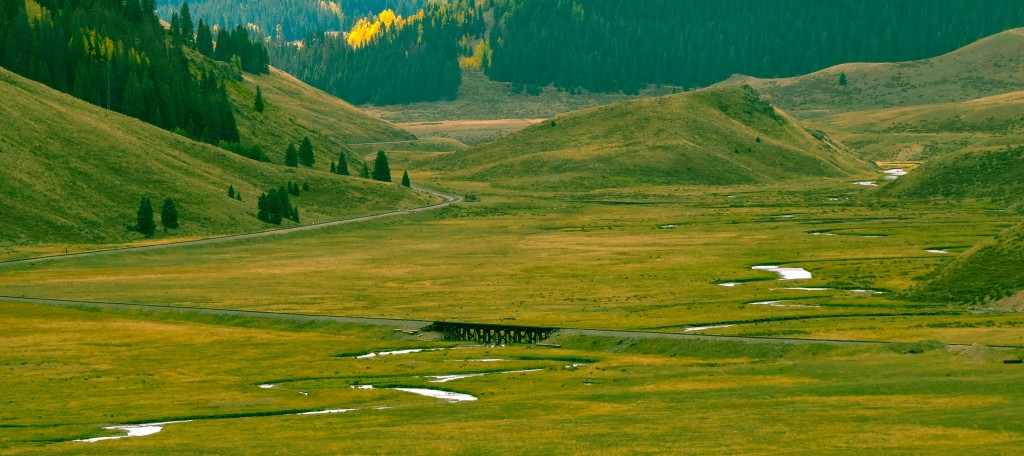 It is the end of the summer, a good time to look back on the prior nine months and ahead at the last three. Two great music festivals, a number of running events, four great professional theatre productions, a wonderful Color Fest, nourishing summer rains, no fires, the new Walmart is under construction, and an improving economy with increased sales and lodging tax collections. Overall it has been a good summer in Pagosa Springs. So far, our Pagosa Springs, Colorado real estate market reflects improving trends, though not across all property and price categories.
Entry Level-Up to $250,000- Hurry- Limited Supply Good Price Support
The 94 Closed Sales of homes priced under $250,000 accounted for nearly 48% of the total number of homes sold thus far this year. In terms of dollar volume, this segment represented 26% of the total. The total number and dollar volume results were both up slightly as compared to 2013, with the average and median selling prices up slightly as well.
In general, homes priced under $250,000 in the Pagosa Springs Area ranged from 1,000-2,000 square feet, with a few older homes up to 2,500 square feet. Often the trade-off for larger, older homes with more space is less energy efficiency. Carefully weigh your present and future space needs against monthly utility and maintenance expenses. The inventory within this price level was reduced significantly with 88 Active Listings on the market at the end of August, approximately an eight month supply, down from the average inventory levels over the last three years.
$250,000-$500,000 Price Range: More Inventory- Weaker Price Support
This range showed improvements over the prior year as well. The 77 Closed Sales were 7 ahead of last year. Average selling times were reduced, with the average and median selling prices remaining mostly unchanged. At the end of August there were a total of 183 Active Single Family Home Listings within this price range, representing about 21 months of inventory at the current absorption rate.
$500,000-$750,000 Range- Buyer's Market- More Supply- Less Demand
Sales in the $500,000-$750,000 range were also slightly improved from last year with 16 closings thus far this year as compared to 15 for the first nine months of 2013. Average and median selling prices were off slightly from the prior year. 65 active listings were on the market within this price range at the end of August, representing roughly 37 months of inventory.
$750,000 and Above- Strong Buyer's Market
Results decline considerably for single family homes priced above $750,000 in the Pagosa Springs area. Thus far in 2014 only 8 sales have closed, while in 2013 there were 11 closings for the first nine months.  The total Closed Sales Dollar volume for homes priced above $750,000 was down nearly 33% from 2013, $9 million as compared to $13.4 million for the prior year. The average and median selling prices also dropped within this bracket. Further, the inventory within this price range increased substantially in 2014, with 82 Active Listings on the market at the end of August representing 11 years of inventory. This reality is not pleasant for Sellers with homes priced in the upper price ranges.
Prices on many of the upper-end listings are 20%-30% below current replacement cost and in some cases substantially below the Sellers' actual cost. Among the few higher-end homes that have sold, several were deeply discounted in order to move them. One would think many more of these luxury homes would have been snapped up by folks looking for great values. For a few of our Sellers that proved to be the case, but for most, the wait continues.
A more in depth look indicates that a good number of highly qualified, affluent Buyers opted to build rather than buy an existing home within the Pagosa Springs area. In a few cases some of these Buyers looked at a few existing homes, but many never looked at what was available except perhaps within the internet. Buyers could have realized substantial savings by acquiring an existing home, even with some remodeling and updating costs. Instead, they contracted with a local custom builder to have their own dream home designed and constructed. For the majority of these consumers, especially those investing $1 million or more, it is more important to get exactly what they want in a home rather than save 20%-30%, largely because they can make that choice without sacrificing anything in terms of their lifestyle.
More affluent Buyers are willing and able to pay a substantial premium in order to obtain the home of their own design with finishes and features suited to their particular tastes and preferences. How many of these consumers made this choice so far this year? From our research, we are estimating as many as a dozen from existing and pending high-end construction contracts within the Pagosa Springs area. It is possible some of the pending contracts may cancel prior to the start of construction, but it is equally likely others will replace those that fall out.
WHERE WE ARE HEADING:
As is normal for this time of year, many listing prices are being lowered in hopes of capturing the few Buyers still looking this late in the season. In the last 30 days we have seen 84 price reductions.
As we continuously review the market data here in Pagosa as well as from other mountain communities across Colorado we can see where the real estate trends are heading. We will continue to see high-end homes purchased or built in Pagosa Springs by families and individuals from Texas and other states with strong energy economies during the next few years. We have yet to see a return of Buyers in any large numbers from California, though we are beginning to see more interest coming to Pagosa Springs from Arizona. New Mexico's economy continues to struggle and we expect fewer Buyers coming from our neighbor to the south until their state's employment conditions improve. The Albuquerque business community is working hard to improve the attractiveness of their area: ABQ Re-Inventing Itself  Albuquerque is determined to attract expanding companies and jobs, but they are not making much headway to date. See: Business Leader Interview 
Pagosa Springs would be wise to invest a significant portion of its tax-generated marketing resources towards our neighbors in Arizona and Texas. Folks from Phoenix can depart from Sky Harbor Airport at 9:00 a.m. and be in Pagosa just after 12 noon. These visitors will typically spend more on lodging, restaurants, lift tickets, lessons and gifts are more financially qualified to invest in area homes, cabins and condos.
Texas has historically delivered many tourists and vacation home buyers to SW Colorado over the last thirty years. With its strong economy and growing population there are thousands of Texans that are not aware of the fabulous recreational experiences Pagosa Springs has to offer, let alone the great value our real estate represents relative to other mountain communities here in Colorado. We are the closest ski area with consistently good snow for all of Texas. Since 2008, Texas has consistently delivered the largest share of high-end Home Buyers within Pagosa Springs. The growth in jobs and household income from expanded energy activities is creating many thousands of new potential visitors for Pagosa Springs and other mountain resort towns. Read:
Our Lodging Tax Dollars need to specifically and effectively attract more of these Buyers to our area. These folks contribute substantially to our local economy with very little impact on our infrastructure. They also have many choices as to where they invest their discretionary income and Pagosa Springs must be willing to compete with other mountain communities delivering the experiences they seek in order to bring their resources to our area.
We have many fine staff members and volunteers engaged in promoting our area, but we must face the fact that we are far behind many other mountain communities in effectively attracting more tourism dollars to our community. The competition is stiff and we must become better at determining and tracking the best means of improving the flow of visitors and resources to our area.
I will be attending the Mountain and Western Slope Real Estate Summit next month being co-sponsored by University of Denver and the Rocky Mountain Commercial Brokers. I have been a partner in this group for the last two years and we are excited to bring together highly informed Presenters and Speakers to share what the research indicates will be the future of mountain communities in terms of jobs and lifestyle here in the Rockies. If you are interested in attending: Mountain and Western Slope Real Estate Summit October 2014 Avon, Colorado
If you would like more information on the local real estate market or assistance with any real estate related matter, please give me a call at 970 264-7000, or email me at: MikeHeraty@frontier.net